The food products industry is changing rapidly across the globe, rising with changing demographics, and increasing demand for branded and convenience food products. Food processing ingredients comprise ingredients such as spices, enzymes, emulsifiers, flavors, stabilizers, texturizers, preservatives, Probiotics, Novel Foods, Nutraceuticals, Phytochemicals, and others. Major shifts in lifestyle patterns to establish work-life balance and the ever-increasing consumption of ready-to-eat food products in urban areas is pushing the market towards food processing products, which ultimately impacts the market for food processing ingredients.

There are thousands of ingredients used in a variety of food products. Codex (CAC), WHO, JECFA, FEMA, ISO, FSANZ, FDA, FSSAI, GSO, INFOSAN, RASFF, Foods laws, Health Authorities, and Food safety authorities carefully make and maintain the regulations of Foods and Dietary supplements, to ensure Food safety throughout the product cycle.

Freyr iREADY enables rapid regulatory checks for food ingredients, health claims and food contact materials, allowing for faster compliance across global markets.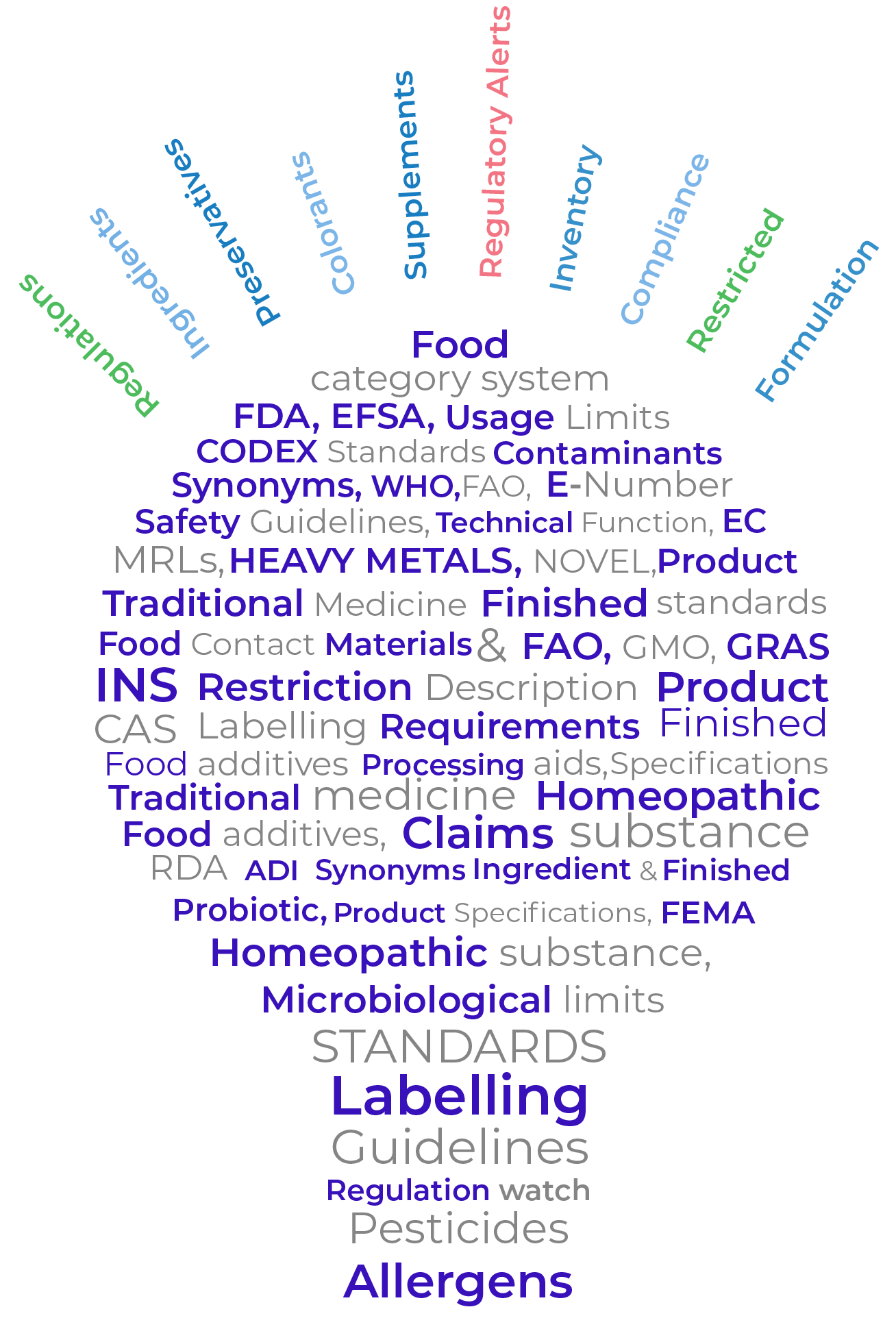 Highlights
Access to 24000+ extensive inventory of global Food and Food Supplements Ingredients in Top 70+ Regulated Markets

Regulations/Standards and specifications (Countries and Codex) Guidelines and scientific opinions (Safety Information)

Access to Food Regulatory Intelligence, latest food regulatory updates/ trending News on Food Ingredients

INS, E –Numbers, iREADY Food Category System of Ingredients and application products with country specific Food classification

Easy navigation to compare regulatory status of ingredients across multiple markets, and Food categories.

Ability to check the requirements for Nutritional, Health, and Advertising Claims

Build your own unique formulae to check for compliance across various markets in single click. Useful throughout product development stages – Lab/Pilot/Prototype/Scale-up/Commercial.

Get automated alerts on the Impacted formulae in your repository based on recent updates of Ingredient data